Mouse Tales
Written by Arnold Lobel
Illustrated by Arnold Lobel
Reviewed by Brooke J. (age 6)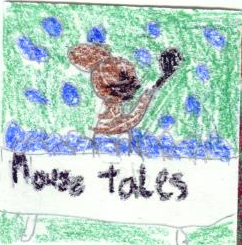 This book is about Papa Mouse and his boys. Papa has to get his boys to go to sleep, so he tells them tales. He has to tell seven different stories to get all of the boys to sleep. The stories he tells are really funny. I liked the story about the mouse that leaves the water running while he washes up. The whole town gets wet and the mice all shouted at him, "Turn the water off! You are clean now!" When Papa finishes telling his Mouse Tales the boys are all asleep.
I think it is cool that Papa Mouse tells his boys bedtime stories. Mostly I liked this book because all of the stories Papa tells are funny. The illustrations are funny too. Some of the stories can also teach a lesson, like don't leave the water running.
I think kids that like bedtime stories will love this book because it is full of funny stories.