There's a Nightmare in My Closet
Written by Mercer Mayer
Illustrated by Mercer Mayer
Reviewed by Steven H. (age 6) & Joseph L. (age 6)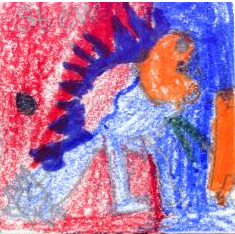 This story is about a boy and a monster. The monster is the boy's nightmare and he lives in the closet. One night the boy decides to get rid of his nighmare, so he waits for him. When the moster comes out of the closet the boy turns on the light. He sees the monster sitting on his bed so he shoots him with his popgun. The monster starts to cry, and the boy tries to make him feel better. After that the boy and the monster become best friends. The boy even lets the monster sleep in his bed.
We really liked this book because we thought it was funny. We liked the pictures too. It reminded us of when we had nightmares, but we got over it. Our favorite part was when the boy shot the monster with his popgun. Joseph thought it was really funny that the monster cried. Steven thought it was crazy that the boy let the monster sleep in his bed.
We think anyone who is afraid there is a monster in their closet will like this book. It can make them laugh, and maybe they won't be afraid any more.