Skeleton Man
Written by Joseph Bruchac
Illustrated by Joseph Bruchac
Reviewed by Samantha C. (age 10)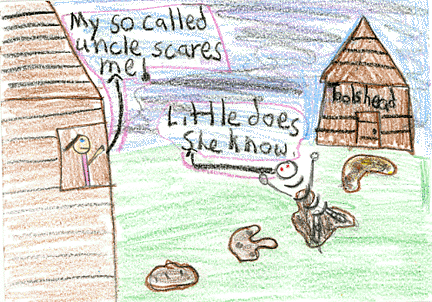 All bones. This is a creature called a skeleton man. A girl, Molly, doesn't know where her parent disappeared to. After being alone for awhile, a town lady comes to Molly's house and introduces her to a guy that says he is Molly's uncle. She gets scared because all of her relatives are dead. The last thing she remembers her Dad telling her is a fiction story about a skeleton man. It is a story about a guy who eats his family. Molly loved that story. After a while Molly gets suspicious. Her "uncle" locks her in her room and puts bars on the windows. He feeds Molly fatty food. He has bony hands and never lets her go in his tool shed. Every night he watches Molly through the window. She has strange dreams. Are her dreams real? You should read this chilling book to find out about Molly's uncle.
I thought this book was chilling and suspenseful. It made me wonder what was going to happen next. I got really into the book. My favorite part of the story is when Molly's Dad tells her a story when someone ate himself. I think that is gross. The character "uncle" is unique because he isn't human. I felt interested reading this book.
I recommend this book to kids 8 and up because it might be scary to young kids. I recommend this book because it is interesting and suspenseful and a good short story.