The Tale of Despereaux
Written by Kate DiCamillo
Illustrated by Timothy Basil Ering
Reviewed by Emily A. (age 11)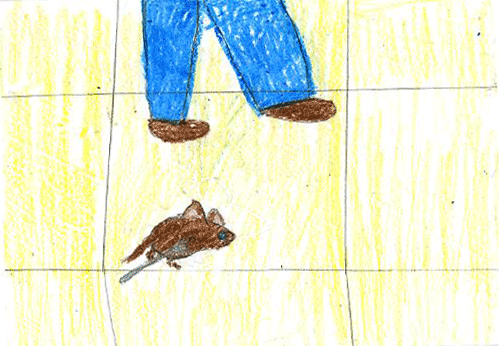 Who is this mouse, smallest of his litter, fighting ghastly fat rats for a Princess locked in a dungeon? Despereaux was such a tiny mouse. He also wasn't normal to mice either. Instead of nibbling at the pages of a fairy tale, he would read the book every day as his brother Furlough ate away. Furlough told their parents all the strange things Despereaux did. One night, at the castle, Despereaux was gleaming through a hole in the wall at the king strumming away on his guitar for his little princess. Her name was Princess Pea and she had beautiful, short, curly blonde hair. Princess Pea turned to fall asleep when she saw the cute little mouse staring at her. "Papa" she said, "Look. There is a mouse in the wall! He is so cute". "That is not a mouse Pea, it is a bug", said the king, blinded by Despereaux's smallness. Furlough told their father as soon as he saw this. His father took out the most important thing, the drum that called the mouse council, the drum that went Boom-tat-tat. The mouse council came and do you know what happened next? Well, you're going to have to read the book to find out!
I think this was the kind of book that you don't want to put down. This book was fantastic! My favorite part in the story is when Despereaux is running for his life from the cook with the knife. The cook almost succeeds in whacking him with the knife across the kitchen floor in the castle. Despereaux changes very much in this book. He starts out shy and lonely and ends up tough and very brave. The illustrations in the book are amazing. They tell so much about what is going on and make the pictures in your mind expand. I really enjoyed the illustrations in this story.
I recommend this book because when I kicked back on my bed and began to read, I could feel my heart racing and pounding in my chest. This book is very exciting. I really recommend this book for anyone, but if you like action, heart thrilling kind of books, this is an awesome book for you!