Trout Summer
Written by Jane Leslie Conly
Illustrated by none
Reviewed by Tess S. (age 10)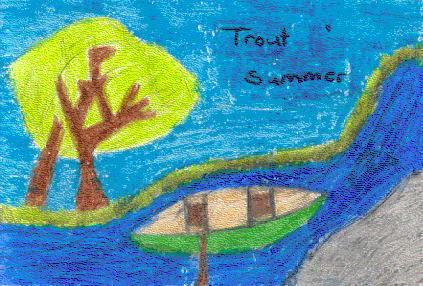 When their father leaves thirteen year old Shana and her younger brother Cody, they move with their mamma to a summer cabin right next to the Leanna River. One afternoon, Cody yelled, ?Shana!? Why? Because an old man named Henry had a gun that threatened Cody and Shana.
Cody and Shanna became friends with Henry when he asked Cody if he knew how to canoe. At sunrise one morning, Mamma told Cody and Shana that she saw a man canoeing down the Leanna. They knew Henry was heading to the canyon. Cody and Shanna were worried that Henry wouldn't make it to the canyon because he was sick and wouldn't go see a doctor. Will Cody and Shanna get help in time, before it?s too late?
I think the lesson in this book is to learn how to work together and use teamwork to help save a person?s life. Cody and Shanna fought like brothers and sisters but when Henry left they used teamwork to try to get help in time, before it was too late. This book, Trout Summer, is by Jane Leslie Conly.
The story reminds me of my family and I. Why? Because our family loves the outdoor country, with the lakes and rivers of Minnesota and the trees remind me of Trout Summer. Trout Summer makes me feel like my brother and I when we get older because we are athletic and, like I said, we love the outdoors. Both Cody and Shanna changed from fighting to using teamwork to help save Henry?s life. One thing that is unique about Trout Summer is that it is an Apple signature author book
I truly recommend Trout Summer to people, who like adventures, survival, and outdoor books all spun together. If this sounds like you, then Trout Summer might be the book for you. Do you like books that paint a picture in your mind? Well I do and Jane Leslie Conly has an outstanding writing style that makes me feel like I?m in the story experiencing the things that the characters are. Trout Summer is an outstanding book by an outstanding author.