Mr. Popper's Penguins
Written by Richard and Florence Atwater
Illustrated by Robert Lawson
Reviewed by Ashley H. (age 9)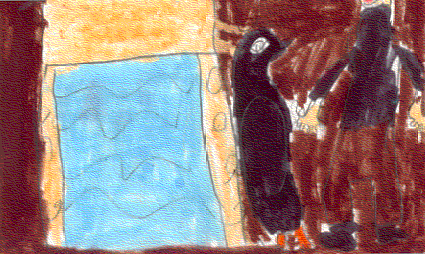 Mr. Popper is a house painter and a decorator. He is very interested in the South Pole, and what showed up at his door one day? A penguin in a box! A famous explorer named Admiral Drake had sent the penguin from the South Pole.
Pretty soon, the Poppers have a whole house full of penguins. Mr. Popper and his family decide to train the penguins to perform on stage. They are hoping to earn money from the performances.
Training the penguins turns out to be harder than Mr. Popper thought it would be. In one part two penguins, Columbus and Nelson, have a fight. Columbus punches Nelson in the stomach. Nelson lays on the stage with his eyes closed.
If you?d like to know more about Mr. Popper?s adventures with the penguins read this book. My favorite part is when Mr. Popper got the first penguin, because he waddles in the bathtub. Another favorite part is when Mr. Popper gets the first penguin, because the way the penguin acts is funny. Two of the penguins, Columbia and Nelson, remind me of me and my brother, because we fight a lot, and so do they. When I read this book, I felt happy. It made me think of my family because my family is big too. The book reminds me of my bird Tweety I had a long time ago, because the penguins did some of the things Tweety did.
I would recommend this book because it is really funny. The part where Mr.Popper gets the second penguin might interest the reader because it talks about how the penguins act. I think people who like animals and penguins would like this book.