Because of Winn-Dixie
Written by Kate DiCamillo
Reviewed by Rebel H. (age 10)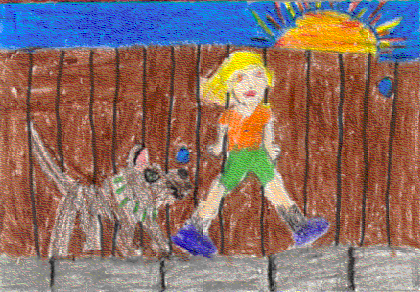 Do you like amazing but sad books? Then Because of Winn Dixie is a good book for you. It is about a girl named Opal who has moved to a new town, and is having trouble making friends. When Opal meets Winn Dixie, a raggedy dog, all of that changes.
How they meet is in a store called Winn Dixie?s. As a man was going to call the pound on Winn Dixie, Opal said he was her dog. That?s how their friendship started.
Opal and Winn Dixie meet a lot of friends, and Winn Dixie always wins them over with his smile. Opal and Winn Dixie get a job at Gertrude?s Pets and make some more friends. Opal?s and Winn Dixie?s friends are Mrs. Franny, Gloria Dump, Sweetie Pie, Otis, Stevie, Dunlap, Amanda, and the preacher, which is Opal?s father.
One time, Gloria Dump was having a party, and a big storm came with lots of rain and thunder. Everyone grabbed everything and came in. Opal was so worried about the party that she forgot Winn Dixie outside. During the storm, Opal cannot find Winn Dixie. And then, well, you?ll need to read the book to find out if Winn Dixie is found.
I thought Because of Winn Dixie was a great book because it was exciting and amazing how Opal meets all those friends. My favorite part is when Opal meets Winn Dixie because it was funny. How it was funny was there was a big funny chase through the grocery store. When I read this book I felt funny, sad, mad, happy, and scared. Something special about this book is that it is a Newberry Award book. The book was good; I hope you?ll read it too!
I would recommend this book to people whom like sad, funny award winning books. If you are a person who does not like sad, funny books, then this is not a good book for you. I thought the book was great because I?m a person who likes sad, funny books. A part that interested me was when Opal and Winn Dixie met. I thought this was the funniest part of the book. I hope you?ll like that part too.