Deltora Quest: Dread Mountain
Written by Emily Rodda
Illustrated by none
Reviewed by Ellie G. (age 9)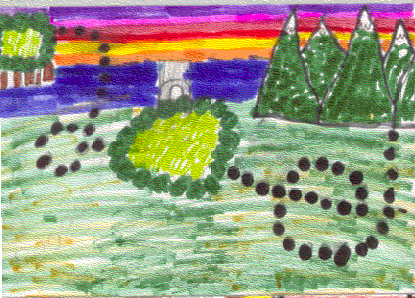 A big man, a wild girl and a sixteen year-old boy are on an unforgettable adventure through the lands of Del. On their way to Dread Mountain, where they think the fourth gem for the Belt of Deltora is, they meet Prin, member of the kin. She insists on playing hide-and-go-seek. While playing, the little kin is captured and the boy, known as Lief, rescues her. The kin, after lots of persuasion, fly them to Dread Mountain.
Swooping and swerving with arrows flying every which way, they manage to land safely. Amongst gnomes shooting arrows, a hidden path, and a hard walk up the mountain, they find themselves facing a hidden doorway. Inside the mountain they solve many puzzles and find out what the guardian of the gem is.
My opinion of this book is that it?s unique and special in the way the author wrote it. A young boy named Dain and a wild girl named Jassmen remind me of myself, because they are determined and won?t give up. My favorite part in this book is when Leif and the others meet the Kin. I like this part because of the Kin?s appearance. This book is part of the Deltora Quest series. In each book they?re on the same quest with the same main characters.
I highly recommend this book because of all the made up creatures and the adventures they take. I would recommend it to people with an open mind because it would be easier to take in the story.