The Star of the Show
Written by Dena Neusner
Illustrated by Barry Goldberg
Reviewed by Precious P. (age 7)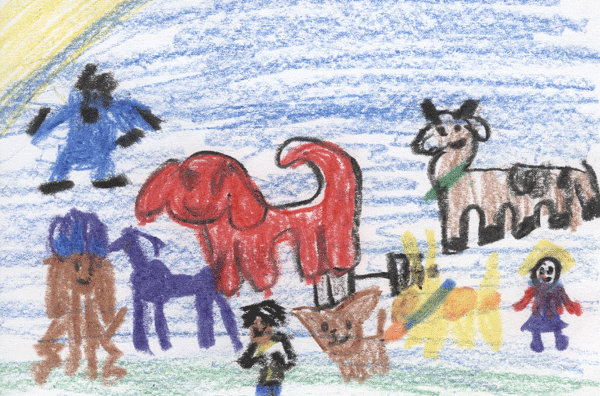 This book is about Clifford the big Red Dog. One day, he went to the carnival with Emily Elizabeth, his owner. He sees the animals in Larry?s Amazing Animal Show. He likes the show a lot. The animals ask him if he wants to join the show but Clifford says no because he can?t leave Emily Elizabeth. He goes back to his house. Mr. Bleakman who is Emily Elizabeth?s neighbor, says to Emily Elizabeth?s dad Mr. Howard that Clifford must eat too much and that must be a problem. Then Clifford hears him, and feels bad. He runs away back to the show at the carnival. But Mr. Howard said Clifford was not a problem but he was part of the family.
Emily Elizabeth went looking for him but she could not find him. Then Larry?s Amazing Animal Show is in a contest on TV and Emily Elizabeth sees it. Larry?s Amazing Animal Show wins the contest prize Tummy Yummies treats. Then he went back home and they were very glad to have him home. Emily Elizabeth said, ?Welcome home Clifford!?
I liked this book because Clifford ran away and his family missed him. But he didn?t know that Emily Elizabeth and her dad said he was a part of the family even when Mr. Bleakman said that he was a big dog and he could be a problem. I liked this book because the book had lots of cool characters. The characters, like this small dog, could lift a big hundred pound barbell. In real life small dogs can?t lift anything heavy. I liked that one of the dogs was rolling on rocket skates because he was going too fast that no one could see him.
I would recommend this book to my grandma because she is the one who helps me in reading. I would recommend this book to kids who like silly dogs who can do cool tricks and cool animals.