Binky Rules ( An Arthur Chapter Book)
Written by Stephen Krensky
Illustrated by Marc Brown
Reviewed by Rawinder B. (age 8)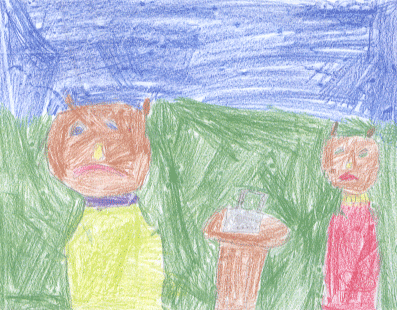 Binky Rules is about a boy who did graffiti on the sidewalk. One day Binky was playing soccer with his friend Francine. Mr. Morris came over and said, "Binky, come over here!" Binky came over. Mr. Morris showed him some graffiti that was written on the sidewalk. It said "Binky Rules". Binky told Mr. Morris that he didn't do it. Mr. Morris made Binky clean up the graffiti. When Binky went to the cafeteria, "Binky Rules" was written on both doors. Buster and Arthur, who are Binky's friends saw the graffiti and got sponges and water to scrub it off. Buster got dressed in a detective suit to solve the mystery of the graffiti. He thought Binky had an evil twin.
I really liked this book. It shows that it is not a good idea to do graffiti and it is important to tell the truth. Lying only gets you in deeper trouble. I think kids will learn that doing graffiti is really bad and can get you in big trouble. I liked all the characters. It was funny when Buster dressed up as a detective to solve the mystery.
I recommend this book to everyone. Whoever reads it will be honest. They will learn a big lesson.