Skeleton Man
Written by Joseph Bruchac
Illustrated by Joseph Bruchac
Reviewed by Hunter R. (age 11)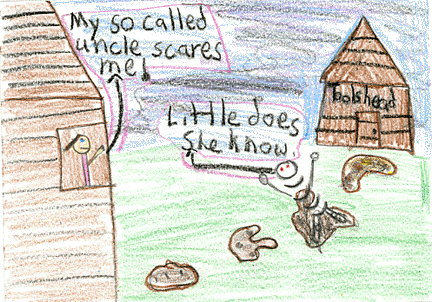 This ghostly book is about a girl named Molly. One day her parents left the house and didn't return. After a couple of days, her so called "uncle" brought Molly to his house. She went through some frightening adventures and dreams while she was there. If you want to read a catchy and sometimes scary book, read Skeleton Man.
I liked the author of Skeleton Man, Joseph Bruchac, because he leaves you wondering about what the next chapter is going to be about. I also feel Joseph Bruchac is a descriptive writer because I could paint a picture in my head when he described something. When I read the first chapter "Footsteps in the Stairway", it was scary. I thought it was scary because I didn't really know what the book was about and the author was telling you all these scary details. This book is like the book Monsters of Morley Manor, by Bruce Coville, because it is scary and the characters aren't real. I thought the part about the tool shed was unique because it looked like a normal shed until you went through the door.
I recommend this book because it is suspenseful and well written. A person who likes suspenseful and scary books would enjoy this book. A person who gets nightmares should not read this book. What might interest readers about this book are the details that the author puts in and the different plots.