The Seventh Tower: The Fall
Written by Garth Nix
Reviewed by Otto H. (age 10)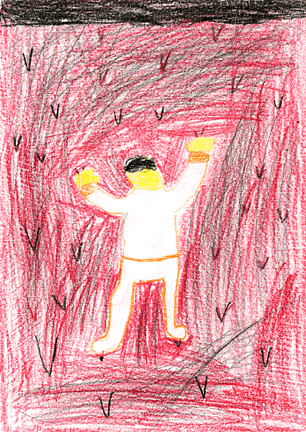 "Why did I ever try to steal a sunstone?" thinks 13-year old Tal in the beginning of the book The Fall. This book tells the story about a boy who lives in a castle of seven towers with many other people. The towers are named after the colors of the rainbow. Tal lives in a world where darkness called the Veil blocks the sun. Tal is climbing the red tower and falls off into an icy cold world filled with magic. Tal is saved by his shadow guard. He then meets someone who will save his life and accompany him on a quest to return to Tal's home and retrieve a sunstone for his clan.
I enjoyed the descriptions in this book. They made the story very exciting. My favorite character is Tal because he is young and adventurous. He is the main character and is involved in many things. This book is part of a series of six. The books are sequels, the story continues in each book. New characters are introduced in each book, but some of the characters from the previous books are carried through to the next part of the story. This book is very magical, with magical creatures. The magic in this book is unique from other magical books I have read. It has different magical powers and apparatus, like sunstones. I had a hard time putting this book down.
I recommend this book to readers who like adventure, suspense and good description. I think that the part when Tal falls off the red tower and meets Milla, will capture readers' interest. The action begins here and continues throughout the book. This book will get readers started on the entire series.