Junie B. Jones and the Yucky Blucky Fruitcake
Written by Barbara Park
Illustrated by Denise Brunkus
Reviewed by Amanda C, (age 7)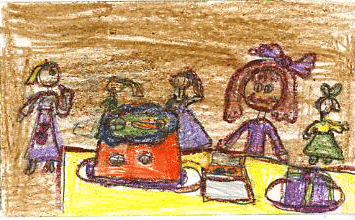 Junie's teacher tells the class that Friday is Carnival Night. There will be many games there like a fishing booth, a penny toss, and a moon walk tent. Junie B. practices every single game at home. At Carnival Night she does not do well at any of the games. At the cake walk she picks a fruit cake for her prize. She doesn't like the fruit cake so her mother and father say, "A fruit cake never goes bad."
My favorite part of the story was when Junie B. practiced al the games because it was funny. She is my favorite character because she is very silly. This story does not relate to my life because I have never been to a Carnival Night. The pictures help tell the story because they show what happens.
I think others should read this book it is very funny. They will enjoy it very much because it will make them laugh at all of the silly things Junie B. Jones does. She also has many other adventures in her other books.