Stone Fox
Written by John Reynolds Gardiner
Illustrated by Marcia Sewall
Reviewed by Nolan F. (age 7)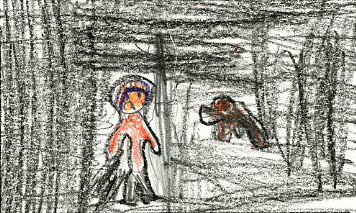 In the beginning Grandfather gets sick and Little Willy doesn't know why. Little Willy finds out that Grandfather owes $500.00 to the bank for taxes. He and Searchlight, his dog, enter a race for a $500.00 prize. Stone Fox, who has never lost a race, also enters. Little Willy wins the race because Stone Fox helps him, but Searchlight dies because she is running so fast that her heart burst.
My favorite part of the story is when Stone Fox helps Little Willy because he was being nice. My favorite character is Searchlight because I love dogs. This story relates to my life because I have had a pet die too. The pictures in this book help tell the story by showing what's going on.
I think others should read this book because it is a good book. It makes you feel like you are a part of the race. It has a great, but sad ending.