Tales of a Fourth Grade Nothing
Written by Judy Blume
Illustrated by Roy Doty
Reviewed by Taylor S. (age 7)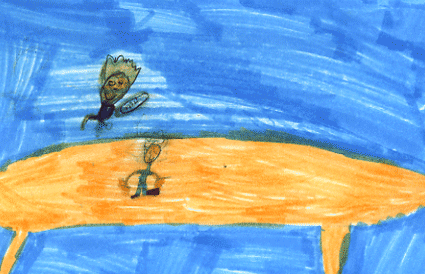 This story is about "Tales of a Fourth Grade Nothing", starring Peter Warren Hatcher and his little brother Fudge. Fudge is annoying to Peter and the whole family. "No! No! Eat CEREAL," Fudge yelled when he didn't want to eat. His dad said, "Eat it or wear it!" and poured the cereal on his head. Fudge ate Peter's turtle and had to go to the emergency room to get x-rays to see where the turtle was. Read and find out more things that were embarrassing for Peter that Fudge did.
I like Fudge the best because he is so funny. He likes to be a brat to Peter. One of the funniest things Fudge did was when he ate Peter's turtle and then went to the emergency room to get x-rays of the turtle. Fudge reminds me of Junie B. Jones, because she had bad things happen in her life like Fudge. Fudge got his teeth knocked out, and Junie gets yelled at a lot by her classmates. The illustrations in the book helped me imagine the story in real life. They're pretty good drawings. I wish they were in color, but they were still pretty good.
I recommend this book because it is hilarious and crazy! I bet that a fourth grader could read this.