Gregor the Overlander
Written by Suzanne Collins
Reviewed by Kevin G. (age 10)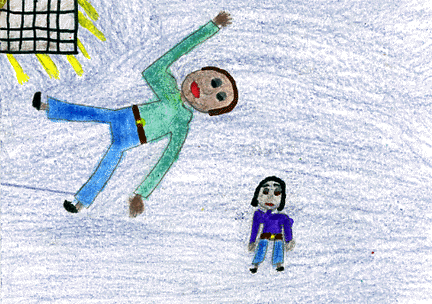 The next thing he knew, he was falling down, down, down into empty space. Gregor, an 11 year old boy, and Boots, his 2 year old sister, are thrust into an upside-down world where giant rats, bats, and other creatures dwell, and where "underland" humans live an uneasy life of fear and worry with these creatures as their neighbors.
Gregor's father had been lost long ago. Now, with the help of some new underland friends, Gregor and Boots set off on a journey to complete a mystical prophecy. But, all is not well. A conflict between the rats and the humans is about to begin. Will Gregor and Boots see their father again? Or will the rat forces wipe out the underland humans? It all depends on the outcome of Gregor's quest of destiny.
Gregor the Overlander is Book One in the Underland Chronicles. Book Two, Gregor and the Prophecy of Bane, is very similar. They are both about the same cast of characters, (with some new faces in number two), and both books share the same fantasy-action genre. The action is emphasized more in the sequel. They are both very good books, with plot twists that keep you guessing. I enjoyed the character Boots. Boots is a main part of the story, making it complete, and adding humor. In tense situations, when it seems everything is going wrong, Boots says something funny that makes everyone laugh; "everyone" including me!
My favorite character is Ripred. Ripred is unique because he's a powerful, witty rat. Since rats are the enemy, the humans treat him like dirt. As the humans find out, Ripred is no ordinary rat. He's much smarter than any other rat, and he's loyal to the quest and the members, even if they aren't loyal to him. Ripred proves himself invaluable more than once on the quest. This book is almost impossible to put down. It has a wonderful blend of characters. Each character has a unique personality, some that help the quest, others that don't. The story line is exciting and easy to follow. I loved this book!
I highly recommend this book to fantasy/action lovers in grades 3-6. There are a few somewhat scary parts and a lot of tense situations, but it is a very enjoyable story. Ms. Collins captures the personalities of each individual character perfectly, from Temp, the cockroach, to Luxa, the all important princess, who seems to have her emotions all mixed up. Readers who like lovable characters and well-written storylines will derive great pleasure from this book.