Horrible Harry and the Mud Gremlins
Written by Suzy Kline
Illustrated by Frank Remkiewicz
Reviewed by Ryan F. (age 7)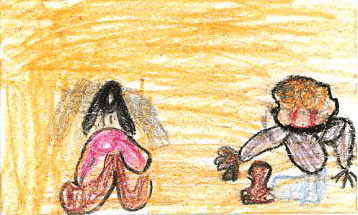 Harry got a hexagonal magnifying glass from his grandma. He led his friends through the fence at school to see the Stinkhorn mushrooms even though they were not supposed to leave the school during recess. When they got back to class they had mud on their shoes and made a big mess. Their teacher was upset until they apologized.
My favorite part is when the class saw the Stinkhorn mushrooms because they had little helmets and were funny looking. Harry is my favorite character because he was in on all of the action. This story relates to my life because I like to go on walks in the park. There are pictures that show the mushrooms with their little helmets.
I think you should read this story because it is fun and it will make you laugh. You won't be bored reading this story. It will make you want to read all of Horrible Harry's other books.