Henry and Mudge and the Best Day of All
Written by Cynthia Rylant
Illustrated by Sucie Stevenson
Reviewed by Kenny V. (age 7)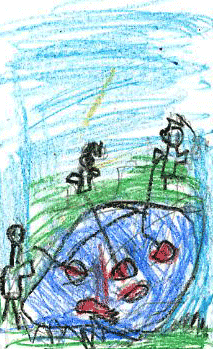 This story takes place at Henry's house on his birthday. Henry's mom and dad set up a party. Then Henry's friends come over. At first everyone is shy, but then they have a good time after playing the games. Everyone eats cake and receives gifts, even his dog, Mudge.
My favorite part of the story is when everyone eats the cake becasue it reminds me of my fifth birthday. My favorite character is Henry because he is very kind and friendly to his dog. This story relates to my life because, like Henry, I always get excited when it's my birthday. There are colorful pictures that help tell the story.
I think you should read this story because it will give you ideas on how to plan a birthday party. You will like all of the characters because they are all very nice. There are more stories about Henry and Mudge that you will like.