Memily
Written by Stephen Cosgrove
Illustrated by Robin James
Reviewed by Marsha L. (age 7)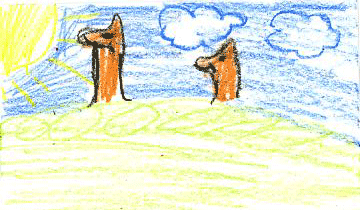 This story is about Memily. She lived in the Jasmine Jungle. In the middle of it there was a meadow. In this meadow there was a baby giraffe. Her name was Memily. It was hard for Memily to walk on her long legs.
Memily was sad because she had no one to play with. She played with the bunnies, but they said she was too tall. She wanted to play with someone that was the same size as her. One day when Memily was rustling through the uppermost branches of a very tall tree she saw anther giraffe as tall as her. His name was Hershal. Memily played with him and they became the best of friends.
My favorite part of the story was when Memily was playing with Hersal because it made me happy. My favorite characters were the bunnies because they were cute. My least favorite character was the elephant and the two zebras because they were mean to Memily. This story relates to my life becasue sometimes I have no one to play with. The pictures in the book help tell the story.
You should read this story becasue it is a sad, but good story.