Number the Stars
Written by Lois Lowry
Reviewed by Chad B. (age 11)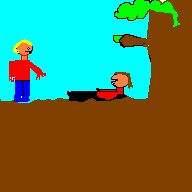 This book is Number the Stars which is based on the time period during World War II. Annemarie is the main character and her best friend is Ellen who is a Jew. They both endure a lot in this book. Eventually they go to Annemarie?s uncle and for a reason, which you will find out, Ellen leaves. Later in the book Annemarie is on a mission that Mama Johnson did not complete because of German soldiers. Will Annemarie get caught? You will have to find out when you read the book Number the Stars.
My opinion on this book is it is very suspenseful. It is also very historical but there is a little to much talking between useful details. So I say that I do like this book. I felt in suspense reading this book. The book is very revealing at how the Jews were treated in World War II. The character that changed the most was Annemarie. She became more mature and aware of what is going on and more courageous than ever before.
My recommendation is that this book is made for historical fiction readers. Also I recommend this for readers who like suspense books. The thing that would interest readers is you never know what is going to happen and that makes it very suspenseful. Plus, it educates the reader on what it felt like to be living in World War II.