Joshua's Song
Written by Joan Harlow
Reviewed by Kelly L. (age 10)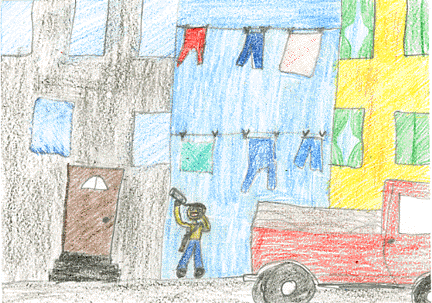 "Extra! Extra!" Joshua Harper's voice rings out in the street. His father just passed away from the Spanish Influenza outbreak. To help the family through these hard times, his mom is taking in boarders and he needs to find work. While job hunting, he runs into Charlestown Charlie, the best newsboy in Boston. Charlie taunts Josh, and challenges him to sell newspapers. Josh wants to prove that he can do it, so he takes the job. Charlie assigns him to sell newspapers at the corner of State Street and after a while, his customers get to know this very polite boy. While selling newspapers, he meets a girl named Angel, who also works for Charlie. Angel's mother is sick with the influenza, so Josh tries to help her a little. One day, while visiting Angel's family in the tenements, a disaster strikes Boston. Does Josh have the courage and strength needed to help in this time of need?
I think that Joshua's Song is a wonderful book because Joshua is a very kind heart-warming character. He does his best to help his family through hard times. I found Charlestown Charlie very interesting. Most people when they get afraid they act timid, but when Charlie gets scared he acts tough. When I read this book I felt very touched and sad. I wondered how I could help families like Joshua's. This story is a bit like the book Meet Addy. In Meet Addy, Addy needs to work at a young age, 9, to help her family.
I'd recommend this book to kids and adults because it is a very touching story about a kid trying to help his family in Boston during 1919.