The Nightmare Before Christmas
Written by Daphne Skinner
Reviewed by Jennifer S. (age 11)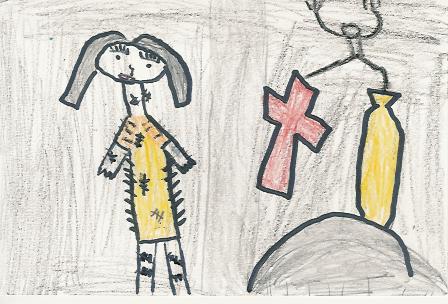 This book is taking place in Halloween Land. The main characters are Jack Skellington and Sally the Rag Doll. Sally was held prisoner by the evil scientist, who wants to marry her, and Sally wants to escape. Jack is the Halloween King and he is getting ready for Halloween. Jack went to the Christmas Land and he saw all the nice stuff for Christmas. When he came back, he told everybody that "we are going to have Christmas." When it is time for Christmas Jack made a toy for everybody. Then Jack gives them the toys the toys are Halloween toys. The evil scientist made a big monster. Then the big monster came to Halloween Land and the people were scared. So Jack was trying to kill the monster and the evil scientist, because the evil scientist wanted to kill Sally for trying to escape! Then the evil scientist died and the monster died too. So the people in Halloween Land are free from the evil scientist.
I like this book because it is scary and I am scared of the monster. You should read this book because it is a really interesting book and the book is also in a movie. The book is a very wonderful book.
If you like Halloween you should read this book because it is all about Halloween. You also should read this book because it will make you sit in the corner where no one will bother you because it is interesting. The book has a lot of action like when Jack is fighting the evil scientist. The book is SUPER!