Captain Underpants and the Big Bad Battle of the Bionic Booger Boy
Written by Dav Pilkey
Reviewed by Leo S. (age 11)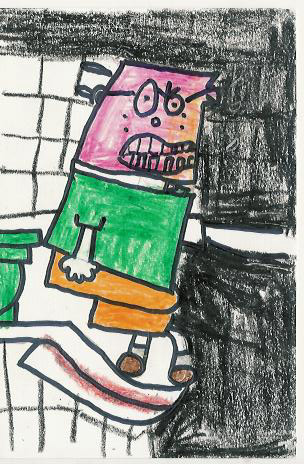 This book is about the main characters George and Harold, and Melvin, who they always make fun of. Ms. Ribble is George, Harold, and Melvin's teacher and Mr. Krupp is the principal of the school. George and Harold always mess up the school sign and they make up nasty things, like telling people to pee in their pants to keep warm! Melvin always says to them, "You guys are so immature!"
Then Melvin turned into a Bionic Booger Boy! What happened was Melvin wanted to use the Combine-0-Tron 2000, a machine that combines things together to make one thing with different elements, to become a robotic Bionic Boy, very strong. Melvin wanted revenge on George and Harold because they keep on making fun of him and playing jokes on him. Like one time when George and Harold put ketchup packets under the toilet seat, and Melvin sat on it, and the ketchup burst out! So, Melvin wanted to scare them by becoming a strong, terrible being. But, just as he turned on the machine, he sneezed, and he combined his snot, himself, and a robot, and became the Bionic Booger Boy instead, like a living booger!
I like this book because I think it is very adventurous and funny, because there is this hero named Captain Underpants who saves people. Read the next book to find out how Captain Underpants saves Melvin from being the Bionic Booger Boy forever! Also, in each book of the series, George and Harold make comic books because they love them. I think that's a very good idea. I think the book was very funny, and I thought it was nasty, and I liked it.
I recommend this book to everybody who likes superheroes and monstrous scary monsters, and everybody who is very adventurous. Whoever likes REALLY, REALLY gross things, you should read this book!
P.S. Please read the whole series of CAPTAIN UNDERPANTS!