Number the Stars
Written by Lois Lowry
Reviewed by Taylor S. (age 11)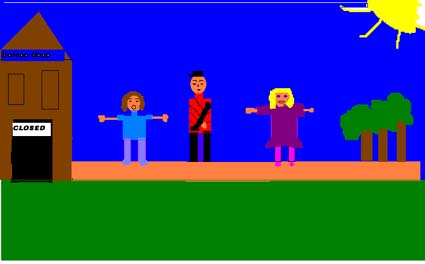 Number the Stars is about two girls who are best friends. Their names are Ellen Rosen and Annemarie Johansen. They were silly little girls who loved to play with paper dolls and race. Then, that all changed when the Nazis came in Copenhagen, Denmark, which is Ellen and Annemarie?s home town. The Nazis turn out to be trouble and World WarII begins. They are also out to get the Jews. Does Ellen get captured? Does Annemarie change? That?s up to you to find out!
This book was very suspenseful and interesting. I am very glad that I read this book. My favorite part of the book must have been when the German soldiers went into Annemarie?s house. I liked this part because it is very suspenseful and that is what I like about books. I think what made this book so awesome is Kirsti, Annemarie?s little sister. She made this book awesome because she is hilarious, even though it was because she is a little childish girl who doesn?t know the danger of all this.
There was actually a character that reminded me of myself. That character was Annemarie Johansen. The reason I think she reminds me of myself is because I am very foolish, but when I know I need to be mature, I am. That?s how Annemarie was. Even though I loved this book, it kind of made me nervous because of the war going on with the U.S and Iraq and I don?t want it to get as scary as it was in the book. This book reminds of almost my whole life because I do have an empty-minded sibling, but it?s my brother, not my sister like Annemarie. It also reminds me of my life because like I said before there is a war going on involving us and in the book the whole book is pretty much all about what is happening during the war.
After reading the book, I would definitely recommend it. I would recommend Number the Stars because it is very suspenseful. In fact, it is so suspenseful that it keeps you on the edge of your chair. I would also recommend this book because it is so excellent that you won?t want to close the book. I think kids from the age 10 and up will enjoy this book. I think the author?s writing style might interest readers as well because she does not use hard vocabulary and it isn?t hard to understand. At the same time, it is fabulous.