Spiderwick- The Seeing Stone
Written by Tony Diterlizzi
Reviewed by Y.P (age 9)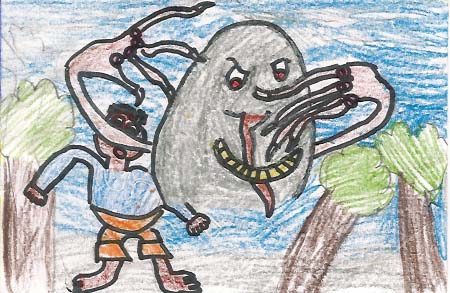 Spiderwick: The Seeing Stone by Tony Diterlizzi and Holly Black is an amazing book. In the beginning, Simon gets taken away. Then Jared and Mallory try to get Simon. In the middle, Jared and Mallory find a chamber full of cages. Simon in one of the cages. Then they have to get back home. Will they get back home, and will Simon be saved? Read Spiderwick: The Seeing Stone to find out.
I enjoyed reading this book. One reason is because it has creatures that don't exist. Another reason I enjoyed this book was because it was scary. It was scary when the goblins took Simon away. That was creepy. Additionally, the story made me want to keep reading to find what would happen next. When Jared and Mallory were walking, a troll popped out of the water. They had to sneak past the troll or he would try to catch them. I wanted to find out if they were going to get caught or sneak past the troll.
My favorite part was when the troll came. One reason is because it was when the troll said, "Kawukaki." Another reason is because the picture was cool. It was very well drawn and very detailed. Additionally, it was silly. The troll hit himself. All kids would enjoy that part of the book.
My favorite character is Simon. He's very smart. He solved many hard codes. Another reason is because he is friendly. He unlocked Jared from the cage. Additionally, he is brave. Simon went to the attic by all himself, and there was a monster in there. I really admire Simon.
I recommend this book to kids who like adventure books. People who like Tony Diterlizzi's books should read this great book! It great to read when it's raining and you have nothing to do. If you like books with monsters in it, then this is the book you should read!!!