Good Morning, Gorillas
Written by Mary Pope Osborne
Illustrated by Sal Murdocca
Reviewed by J.A.M. (age 8)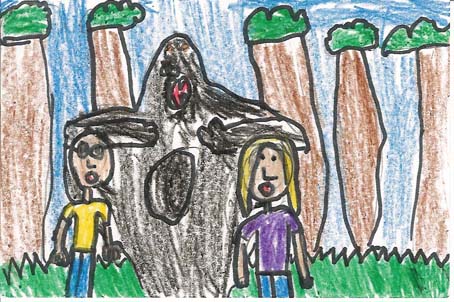 Good Morning Gorillas, by Mary Pope Osborne, is an amazing book. In the beginning, Jack and Annie get swept to a mountain in Africa to look for a special magic. While they are there, they meet some amazing, but frightening, gorillas. Jack and Annie get invited to eat with the gorillas, and Jack starts to play with them. When they begin to walk with the gorillas to their home, a black leopard appears. He wants to eat Jack and Annie. Will Jack and Annie find the special magic, and will they be saved from the leopard?
I enjoyed reading this book. My favorite part was when Jack acted like a silverback because it was funny. It was also hilarious because there were two very playful gorillas named Bu-bu and Ho-ho. I laughed when Bu-bu and Ho-ho grabbed Jack's head. Another example why I liked it is because it's interesting. The book told a lot about how mountain gorillas act. Additionally, this book is imaginary because there is no such thing as a magic tree house. I couldn't put this book down.
Annie was a great character in this book. One reason why is because she is friendly. She actually made friends with two baby gorillas. Second, she is caring. When Annie played with the gorillas she made sure that they were safe. She is also playful. She played with the baby gorillas all day long. I like reading about Annie
I recommend this book to boys and girls who like fiction books. This book has lots of details which made it interesting. If you enjoy reading books by Mary Pope Osborne, then you will like this book. If you never did, I still think you will like it. This book is great for reading on a long car ride. You can learn a lot about gorillas. Have fun reading!