Tonight on the Titanic
Written by Mary Pope Osborne
Illustrated by Sal Murdocca
Reviewed by R.G (age 9)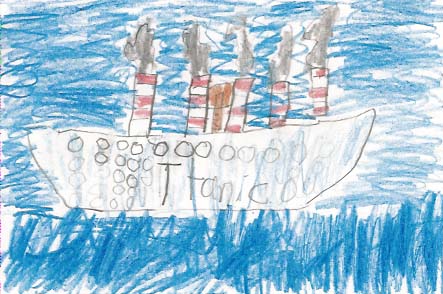 .Tonight on the Titanic is a great book. Jack an Annie are assigned to a new mission. The mission is to take a spell off a puppy named Teddy. One thing they need to do to break the spell is to get a present from the Titanic. They are being timed by the sinking of the Titanic. Will they get the present? Will they make it home? Find out when you read Tonight on the Titanic.
I read another story by the same author, Mary Pope Osborne. They both missions and the same characters Jack, Annie, and Teddy. In both stories, they risked their lives. In this story, Jack and Annie risk their lives by going on a sinking boat. In Buffalo Before Breakfast they went in a heard of charging buffalos. Mary Pope Osborne writes the best books.
Jack reminds me of my friend Adam. They both always take notes. Adam takes notes while he is playing electronic, learning games. Jack takes notes on his adventures. Adam and Jack both wear glasses, and they both don't like adventures too much. Adam doesn't like to get out of the house because he'd rather stay inside and play. Jack tried to avoid going to the Magic Tree House so that he wouldn't have to start an adventure. Although, once he is in the middle of one he has a great time. Jack and Adam both have a lot in common.
It was really scary when the Titanic hit an iceberg. I thought it was going to sink. It did! Most of the people died. Luckily, Jack and Annie ran up the boat and into the Magic tree house. They took the presents and safely got back home. I felt better knowing that Jack and Annie survived.
I recommend this book to kids in first to third grade. It is not too hard, and it is easy to understand. People who like adventures would love Tonight on the Titanic