Kat Kong
Written by Dav Pilkey
Illustrated by Dav Pilkey
Reviewed by G.P.R. (age 9)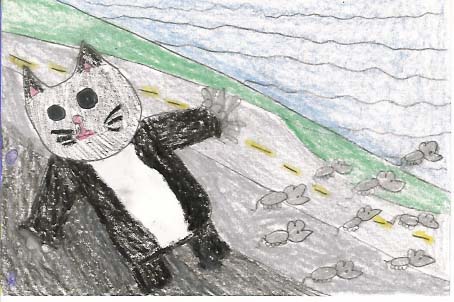 Cat Kong, by Dav Pilkey, is a great book. In the beginning of the story, there were 40 mice who went on a hunt. They found a large can of tuna fish. It belonged to the cat. The 40 mice saw the big cat meow really loud. The cat started chasing them. The mice trapped the cat, but it escaped. The cat started chasing the mice again. Read this story to find out if the cat will eat the mice.
I enjoyed the illustrations in this book. One reason why is because they helped tell the story. The pictures showed how the characters look and helped me understand the author's words if I was confused. Another example why I liked the illustrations is because they are colorful. The illustrator mixed together a lot of different colors. Additionally, the pictures were funny. The pictures were hilarious because they are drawn like cartoons. The illustrator did a great job.
I loved reading this book. It was funny. I laughed when the 40 mice dressed up as pirates and went on a hunt. In addition, the story has a lot of action. The cat was running really fast. The pictures really made the book fun to read. The cat looked like he was going to jump out of the book. Finally, I enjoyed reading this book because it has great pictures, it's funny and it has lots of action.
The big cat was an interesting character because he had a lot of power. He could jump really, really high. He jumped very high when he was going to attack the mice. The cat is also really strong. When the mice trapped him, he broke out of the trap. In addition, he is a little scary. He acts like a beast, and he is always angry. He was angry when the mice tried to eat his tuna fish. Last, the cat added lots of action to the book. He was always running really fast. So you can see, the big cat was an interesting character because he had power, he was scary, and he added lots of action to the book.
I recommend this book to kids of all ages. It is fiction, so no one should be scared of a giant cat. It's not too long and not too short. It's perfect for reading when you're on a car ride. Don't forget to read more books by Dav Pilkey.