Catalina Magdalena Hoopensteiner Wallendiner Hogan Logan Bogan Was Her Name
Written by Tedd Arnold
Illustrated by Tedd Arnold
Reviewed by Hannah C. (age 9)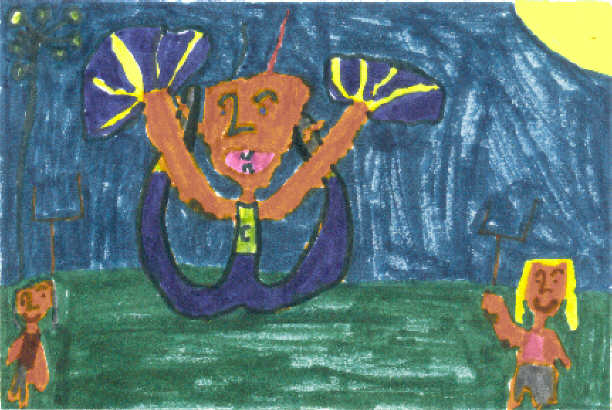 The author/illustrator of this book has made a camp song into a book. The story is about a girl who looks funny and does funny things. She has a long, long name. That makes the story even funnier because sometimes it's hard to say all seven words of her name.
My favorite part of the story is when the song tells how the girl uses the two holes in her nostrils. One is for her fingers and the other one is for her toes. I really liked this part best because it made me really laugh. No one puts their toes in their nose. The whole book is so funny because even her name is like a tongue twister.
This book is like the book PARTS because both books have main characters that are unusual. In the book PARTS, the boy thinks his friends mean one thing when they really mean another. When a friend says to him that he cracks him up the boy thinks his body is really going to crack all over. In this story the girl's feet are so big that they are bigger than a bathroom mat and her arms are so long that they drag on the ground when she walks.
My favorite illustration in the book is the one of the girl as a cheerleader. I really liked that picture a lot because I was a cheerleader for one of the Little League football teams in the fall. I wore a uniform and used pom-poms just like the girl in the story.
I would recommend this book to third graders or older because the name is hard to say. This book will make you laugh every time you read it, especially when you try to read the main character's name fast. That will get you all mixed up with the words and make you laugh even more.