Big Pumpkin
Written by Erica Silverman
Illustrated by S. D. Schindler
Reviewed by Mari M. (age 8)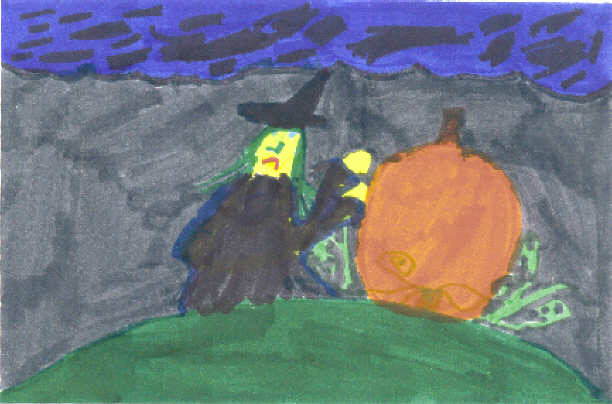 This book is about a witch who wants to grow a huge pumpkin to make a pumpkin pie. She grows a pumpkin in her garden but it is such a big pumpkin that she can't pull it off the vine. Some Halloween creatures, like the Vampire, Mummy, and Ghost come along and try to help the witch pull the pumpkin off the vine, but none of them can. Then a little bat comes along and tells them he has an idea. They all laugh because they think he's too small to help. But his idea actually works! Read BIG PUMPKIN to find out the bat's idea and how they were able to pull that huge pumpkin off the vine.
This book is like another book I've read called THE BERENSTAIN BEARS AND THE GREEN EYED MONSTER. Both stories teach you a lesson just like fables do. But the lesson in each story is differnt. In the Berenstain Bears story the lesson is to be satisfied with what you have and not be jealous of what someone else has. To find out the lesson that the book BIG PUMPKIN teaches you, you'll have to read the book yourself.
The main character in this book, the witch, really changes how she acts in the very beginning of this book. She doesn't share and cooperate in the beginning of the story, but by the end of the story she learns to share and cooperate.
My favorite part of the book is when all the characters eat the pumpkin pie. This part is my favorite because they all have a good time. It reminded me of the time my family baked a pumpkin pie. It was fun because we were all working and laughing together just like the characters in the book.
I recommend this book to first and second graders because it is a great book. It teaches you how to share and cooperate. This book would be especially good for first and second graders who need to learn to work together. Third graders would probably also like to read this book. It is the fifth time that I have read it and I'm a third grader.