The Good, The Bad and The Goofy
Written by Jon Scieszka
Illustrated by Lane Smith
Reviewed by Andy A. (age 10)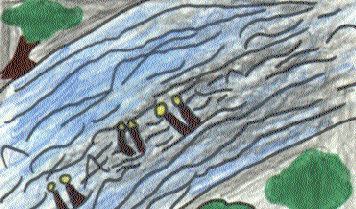 The boys of the Time Warp Trio are at it again. Joe, Sam, and Fred travel to 1868 by accident. They meet a group of cowboys. They fall into a river, they get dragged by an Indian, and even get in the middle of a war between the cowboys of the 7th cavalry and some Indians. What will happen? Will they die or get themselves back to 1995?
I like this amazing book. It was a book of slang, adventure, and excitement. My favorite part was when Sam would say,"Yippee Ki Yi Yippee!" It was my favorite part since the line was very funny and interesting.
This book is a part of a series of Time Warp Trio Books. I recommend them to readers who like some historical fiction and some adventure. So, go out and get the book!