Magic Tree House--Tiger at Twilight
Written by Mary Pope
Illustrated by Sal Murdocca
Reviewed by Douglas K. (age 7)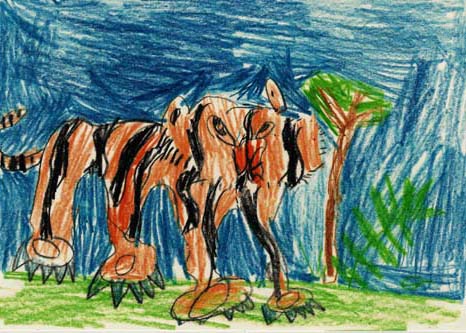 In the beginning, Jack and Annie go to India by traveling in the Magic Tree house. They meet two monkeys and they named them Kah and Ko. Jack and Annie see a snake that is not poisonous but kills animals by squeezing them to death. Jack and Annie are looking for a white rose in a swamp. They need to get the rose to break a spell on Morgan who is the owner of the Magic Tree House. Jack and Annie find a tiger in a trap and help the tiger get free from the trap. They meet a blind, old man who told Annie to get one of the roses from the swamp for saving the tiger.
My favorite part of the story is when Jack and Annie save the tiger because it is good to save animals. My favorite character is Jack because he is very smart. Jack and Annie saved a tiger's life. I saved my cousin from drowning when he was four years old. The story has some pictures the helped me understand the story.
I think others should read this story because when you look at the pictures you picture it in your mind.