Scooby Doo and Aliens Too
Written by Davis Doi Lance Falk
Illustrated by Duendes Del Sur
Reviewed by Victor D. (age 7)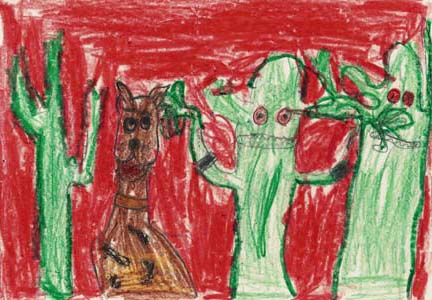 Aliens were invading a town in the desert. No one knew they were there. Then Scooby, Shaggy, Fred, Velma and Daphne came. They saw a spaceship with aliens in it. The gang went to investigate. They got captured by the aliens but it turned out there were no aliens. It was just people in masks trying to scare people away so they can get gold from a cave. They were sent to jail and the gang saved the day.
My favorite part of the story is when the aliens attack because it is exciting. Scooby is my favorite character because he is weird. This story relates to my life because I like to play with my friends like Shaggy. This story has pictures that help tell the story.
I think people should read this story because it is funny and because it has a mystery that is fun to solve.