The Saddle Club-Horse Shy
Written by Bonnie Bryant
Reviewed by Maty B (age 9)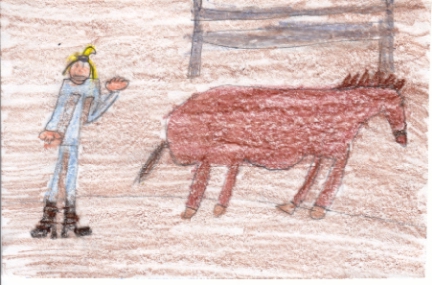 Carole, Lisa, and Stevie are members of the Saddle Club. Saddle Club is a club whose members love horses. The Saddle Club went on a Mountain Trail overnight with the stable leader for three days. The members loved going on the trip. They went on walks and played games. When everybody got back Carole and her dad went to North Carolina to visit her aunt because her dad had to do some work there. When Carole got back she got a call from Stevie. Stevie said Cobalt, one of the horses, got hurt. Cobalt's owner, Veronica, broke her arm. Cobalt's long bone in his foreleg shattered and he died. Carole cried and cried. It was then when Carole decided to quit riding horses. Carole had to come back to the stable to help Mrs. Reg put stuff away. Carole found six kittens in a box. Mrs. Reg told Carole that she could name and take one.
Read this book to find out if Carole comes back to the stable to stay and renew her love for horses.
I like the parts where the Saddle Club goes on the trip because I like imagining what they do. I like this book because I like horses and the adventures in this story. Carole changed in this story because she gave up riding horses when Cobalt died.
You would like this book if you like horses or you're in a horse club. I recommend this book because it is a great book and horse fans will definitely love it.