The War with Grandpa
Written by Robert Kimmel Smith
Illustrated by Richard Lauter
Reviewed by Trevor W (age 10)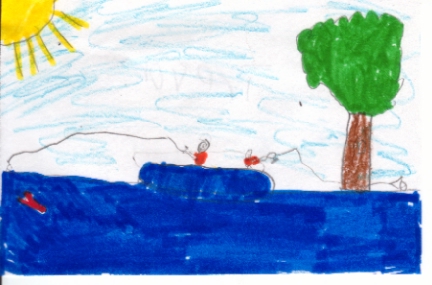 Peter's grandpa came to stay with Peter and his family. Grandpa has a bad leg so he takes Peter's room on first floor. Peter goes up to the bedroom on the third floor. Peter doesn't like it. He goes to war with Grandpa. Peter and Grandpa played war games on each other. Finally one war game went too far and both Grandpa and Peter felt bad. Read the story to find about the games they played on each other and if Peter ever gets his room back.
This book reminds me of home. He was happy at home and so am I. I like it because it is funny. I can have fun with my family, too. The illustrator used the color black. He makes good pictures. His pictures make the story funnier.
I recommend this book to people who like to read about funny stuff that happens at home. Grandpa took Peter's room away and the way Peter goes about getting it back is funny. Kids and Grandpas will love this book. So if you have a Grandpa, read this book to them. Both of you will enjoy the war that is going on.