The War with Grandpa
Written by Robert Kimmel Smith
Illustrated by Richard Lauter
Reviewed by Curtis W (age 9)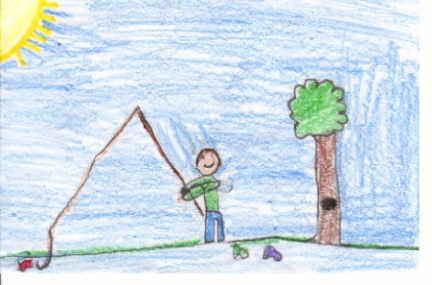 Peter's Grandma died. His Grandpa was coming to live with Peter. Peter had to give his room up for Grandpa. Peter started a war with Grandpa to get his room back. They sent notes back and forth. One day Peter spent a day with Grandpa. Peter watched TV with him. They spent the whole day together. On another day, Grandpa asked Peter if he wanted to go fishing. Read the book and find out if Peter ever gets his room back.
It's a mysterious book and it makes me wonder what is going to happen next. Grandpa and Peter always tries to play a better trick on each other. I like the one about Peter not being able to find his clothes.
One of my favorite parts was when they went fishing because I like to fish too.
My favorite character is Peter. He is not afraid to go after what he wants--even if he has to go to war.
I recommend this book if you like mysterious and funny book. It is a story about a familiy's life. Everything that happens can happen in almost any family. It also received the South Carolina Children's Book Award.