You Can't Eat Your Chicken Pox, Amber Brown
Written by Paula Danziger
Illustrated by Paula Danziger
Reviewed by Jennifer W. (age 8)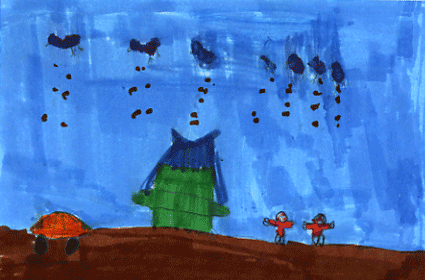 It was Amber Brown's last day of third grade. All her classmates had the chicken pox except her. She went on a plane with her Aunt Pam to visit her dad in France. First, she stayed with her aunt in London, England and saw the sights. Then Amber Brown started to get the chicken pox. She and her aunt played Marathon Monopoly for hours. She wrote letters to her mom and her friend Justin. At last, her dad came to see her and they went to the wax museum.
My favorite characters were Amber Brown and Aunt Pam. I liked Amber because she was funny. She was always saying "I, Amber Brown". I like Aunt Pam because she played so many Monopoly games with Amber. She was nice to Amber. When I read this book, it made me feel like I wanted to get in a plane and go to England. I would like to see the fountain that Amber saw. I thought that the illustrations were really cool. They looked like they were real people moving.
I recommend this book to anybody who likes funny stories. You will like Amber Brown. Kids in grades two and higher can read it.