The Dinosaurs Who Lived in My Backyard
Written by B. G. Hennessey
Illustrated by Susan Davis
Reviewed by Cheryl P. (age 7)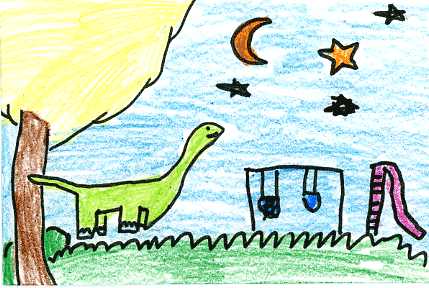 This story is about a dinosaur who lived in someone's backyard. The dinosaur was born in an egg. He was even bigger than their sandbox. The children's mom told them to eat vegetables so they can grow big and strong, so that's what they imagined the dinosaur did. Sometimes the dinosaurs had a fight and sometimes they played hide and seek. They slept in the leaves. But the children slept in the tent. Read this book to find out the rest of the things they do.
I liked the part when the dinosaur wore a spotted hat at his birthday. His friends were there too. When the dinosaur made holes in the ground with its feet it reminded me of my little puppy when I was jumping on the grass and digging sand and he made a big hole. I think the illustrator really liked dinosaurs when she was small because the pictures looked like real dinosaurs.
I would tell other people to read this book because it's an interesting book to other people who like dinosaurs. First and second graders will like this book because maybe they will get frightened.