A Dinosaur Ate My Homework
Written by Ray Nelson
Reviewed by Danielle V. (age 7)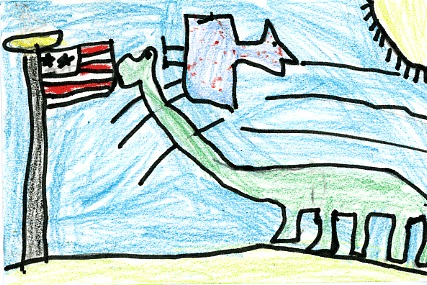 This story is all about school and a student who brings dinosaurs to school. The student's name was Earl P. The dinosaurs chewed everything. They can't swim or paint at all. They were mad at Earl P. because they didn't get to do anything. Read the rest of the story to find out if the dinosaurs get into a lot of trouble.
I like this story because it is funny and interesting. It was funny when the principal had a plate of eggs and the dinosaur was poking its head out and sucking on a "binky." I like the part when they swim, paint, and eat. It was funny because the girl couldn't eat because the dinosaurs were eating the food. There was a dinosaur painting with a mustache and wearing a hat like in Paris. I like the book because it reminds me of the olden days when the dinosaurs were alive, but in this book they're with children.
I recommend this book to first, second, and third graders because it is a great book. This isn't for 4th or 5th graders because they read chapter books.