The Boxcar Children
Written by Gertrude Chandler Warner
Illustrated by Likate Deal
Reviewed by Becca M (age 10)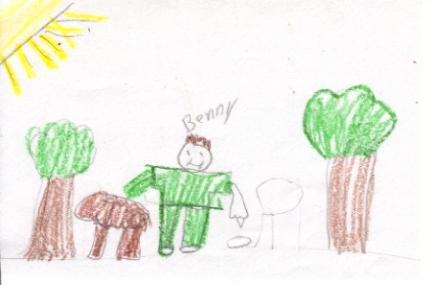 Henry, Jessie, Violet and Benny were living by themselves . Their parents died. They found an old boxcar and made it a home. They found a dog with a thorn its foot. Jessie takes the thorn out. They name the dog Watch. The children survive by eating berries they find in the woods. Henry does odd jobs for Dr. Moore to earn money for bread and milk. Dr. Moore figures out who the children are. He also knows their Grandfather. Will the children ever meet their Grandfather? Read the book to find the answer.
My favorite part of the story is when Benny cuts a big J in Watch's fur. He thought he was being helpful, but instead he made Watch look funny.
All four characters changed in this story. At first they didn't like their Grandfather. At the end of the book they like him.
This book is part of a series written by Gertrude Chandler Warner. Each book has the same characters. The characters are having different adventures in each book. They like solving mysteries.
I liked this book because the characters are funny. They care for each other. They always make sure everyone is all right. They even took Violet to see Dr. Moore when she was sick. If you like stories about young kids helping each other and taking care of each other, you will like this book. If you like reading about kids finding a good home to grow up in, you will like this book, Also if you like reading books in a series you will like this book and other books by Gertrude Chandler Warner.