Hop on Pop
Written by Dr. Seuss
Reviewed by Diana S. (age 8)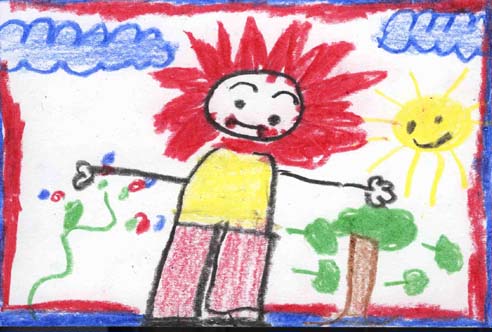 There was a dog and he was up and the house was on top of the mouse. The Pop was lying down and the two kids were hopping on him. The kids like to walk and they like to talk. The Brother said he could read and the dad could read big words. The dog said, "Where is Brown?" He was out of town. Brown came back with Black, back to town! The boy has red hair and he's on the bed. The Pat fit on the bat!
I liked this book because it's fun and because it's funny. I liked the pictures. My favorite picture was when the kids were hopping on Pop. I did that when I was a little girl. My favorite part was the part about the boy with the red hair. I've never met someone with red hair. The book rhymed. I would read it again.
I would recommend this book to my mom, because she helps me read and she likes to laugh. I would read it with my younger sister because if she didn't know what the words were, I could tell her. This book is good for people who are learning how to read. People will like this book because it's funny and it rhymes and it is fun to read!