The Spookiest Pumpkin
Written by Andy Rector
Illustrated by Yacoba
Reviewed by Precious P. (age 7)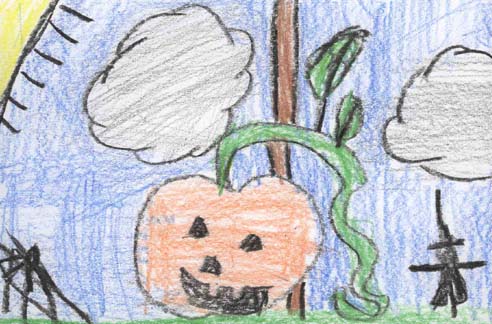 The pumpkin was sad because he was little and nobody picked him. The spider made a web to help him because he was feeling sad. Then three girls and one boy came to get him because he was the spookiest pumkin in the universe. Then the spider was alone.
Precious likes this book because it was a great book. There was a little pumpkin every step of the way. The characters were cool. Precious learned that friends are the best thing you have. She was happy because the pumpkin got a house to live in. She liked when the kids were dressed up as Halloween people. She also liked the pictures.
Jahaira liked the part when the pumpkin was feeling better because somebody picked him. She liked the pictures because they look very cute. She liked the pumpkins because they were skinny and fat.
Jahaira and Precious would like to recommend this book to people because it is spooky and funny. Jahaira and Precious think that people will like this book because at the beginning of the story it was a little sad and at the end it was happy. People will like the book if they like Halloween. Teachers will like this book because they like to read and tell stories.