The Runaway Bunny
Written by Margaret Wise Brown
Reviewed by SL (age 6)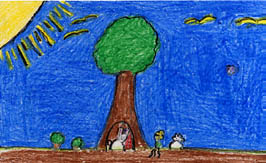 There was a bunny who wanted to run away. He wanted to become a rock so that he could run away from his mom. The mother bunny said that she would be a mountain climber and go to where the bunny was. He wanted to become a sailboat, but the mother said she would be the wind and blow him where she wanted him to go. Do you think this bunny would ever get to run away? What would do if you ran away from home?
I really liked bunny rabbits, so I liked this book. My favorite part was when the bunny rabbit wanted to be a rock because I wonder why he would want to be something else if he was already a bunny? This story makes me wonder why my brother is allergic to rabbits.
I think I would recommend this book because people would really like to look at the pictures. People who like rabbits will also like this book because this book is about a rabbit who wants to run away from home.