Little Polar Bear
Written by Hans de Beer
Reviewed by Dennis T. (age 7)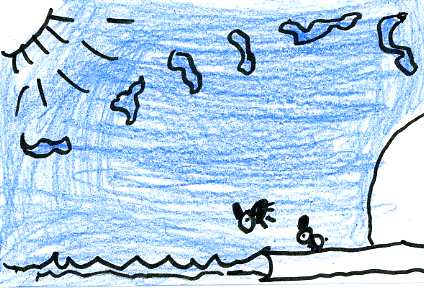 This story is about a little polar bear named Lars. Lars was smart and clever. One day Lars and his dad went to the edge of an ocean. Lars' dad jumped in the ocean. Lars waited and waited. Then Lars got scared. Lars' father finally came up with a big fish. Then it was bedtime for both of them. Before they went to bed they built an ice block to sleep on. That night Lars' ice cracked and floated to an island.
This is the first polar bear book made about Lars. The other books about Lars came after. I like the little polar bear because the little polar bear is cute and smart. My favorite part is when Lars sailed out to sea because he was funny and cute.
I think this book is good for kindergarten, first and second grade. I would tell other people to read this book because it is an interesting book.