The Class Trip
Written by Grace MacCarone
Illustrated by Betsy Lewin
Reviewed by LJ (age 6)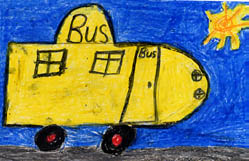 One class decides to go on a field trip to the zoo. They look at the chimps, but one little boy, Sam, decided to stay behind. The teacher tells Sam that he has to stay with the class. Next, they see the monkeys and Sam stays behind again! The class visits the elephants and then the lions and then the polar bears. Still Sam stays behind. What do you think will happen to Sam? Will he get lost?
The boy learned a lesson in this story. He learned not to stay behind. I felt very nervous for the boy who was left behind all the time. The pictures in the story looked like a cartoon. At the end of this story all the kids got ice cream and I really like ice cream.
People will like to read this book, especially if they are in school. It may remind them of a class trip they wenton. Everyone will also really enjoy the colorful pictures in this book.