Are You My Mother?
Written by P.D. Eastman
Illustrated by P.D. Eastman
Reviewed by LC (age 6)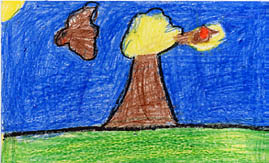 The mother bird had an egg and it started to open. She left the nest to get food and the baby hatched. When the baby went looking for his mother he bumped into a kitten and thought it was his mother. He ran into lots of different animals and thought they were his mother. He ran into a tractor and the bird thought the tractor was his mother. Was the tractor really his mother?
The birds are my favorite part this book because they are the same color as my dog. I also like to eat eggs and this story is about an egg that hatches. It is very special when the baby bird finally finds his mother. I think the baby bird was very happy when he found his mother. This reminds me of a baby bird who used to live in a tree at my house.
First graders would like this book because it is very easy to read and the pictures are drawn very carefully and they look very nice. I think people will be interested in how the baby bird finds its mother. The mother never knew that the baby was gone!