The Adventures of Taxi Dog
Written by Debra and Sal Barracca
Illustrated by Mark Buehner
Reviewed by Darlin A (age 12)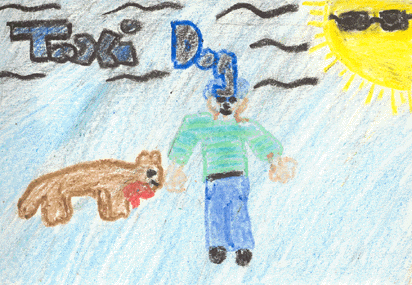 The story "Taxi Dog" is about a dog that is lost. He was found by a man called Jim. Jim named the dog Maxi. They did a lot of fun things together. When Jim goes to work in his cab he takes Maxi with him every where. When he goes to the airport to pick up and leave people he takes Maxi. Another time Jim and Maxi once took two clowns in the cab because they needed a ride. Another time they had to take a lady to the hospital because she was sick. They both did nice things together that Maxi never did before with somebody else. This story also is a riddle. On every page the sentences rhyme like poetry. The lesson is that dogs could have fun too.
This story is sad at the beginning because Maxi was lost and alone in New York. Then he was found by Jim and they had a lot of fun together. That's why I like this story because Jim showed a lot of love to Maxi. And that's how people should show love to other people that are lonely. My favorite part is when Jim gets to meet Maxi because Maxi felt lonely. I liked both characters because they both are friendly to each other. I liked the illustrations of the story because they have the right colors for this story. This book is special because kids could learn a lot from it if they have been lonely. As I read this book I was I interested in it. This book is a fun book to read and it probably happened to some body in real life.
I really think other people should read this book because it's a fun book to read. This book also helps you to understand dogs feelings about themselves. Reading this book can help you learn more about reading skills at school. People who would like this book are the people that say "Reading is fun"!