The Three Bears
Written by Carol North
Reviewed by Leonardo R. (age 5)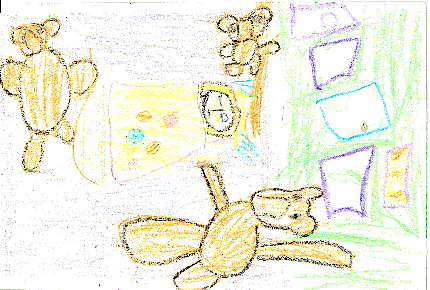 Mother bear made some porridge. It was too hot and the three bears went for a walk. Goldilocks went inside the house and ate up all the little bear's porridge. She even broke baby's chair. Then she fell asleep in the baby's bed. The bears came back and found her in the baby's bed. She got so scared that she ran out the window. They never saw her again.
My favorite part is when she opens one eye and sees three big bears looking at her. I also like the Bears. They should be very angry with Goldilocks but they never hurt her.
You can read this book and change your voice to be the big bear, the medium size bear and the little bear. You can read it with a friend and take turns being all the characters.
(This story was dictated)