The Very Hungry Caterpillar
Written by Eric Carle
Illustrated by Eric Carle
Reviewed by Alexa R. (age 5)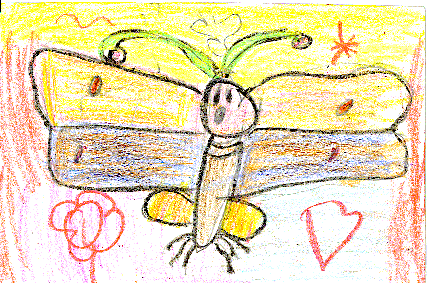 A little caterpillar pops out of a tiny little egg. The caterpillar is hungry and he eats all the fruit. Then he eats lots of delicious foods like chocolate cake and ice cream. He gets a very bad stomachache. When he eats a green leaf, he feels much better. He makes a cocoon, and he stays in there for a long time. Then he pushes himself out and he becomes a beautiful butterfly.
I like the part where he comes out of the cocoon and he is a butterfly with many colors all mixed together. I like Eric Carle's pictures. He likes to paint, cut and glue to make his pictures. I do, too!
If you like to learn how a caterpillar grows, you will like this book.
(This story was dictated)