The Very Hungry Caterpillar
Written by Eric Carle
Illustrated by Eric Carle
Reviewed by Ricardo G. (age 5)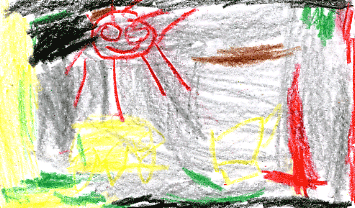 The book began with a little egg. The egg broke and out came a little caterpillar in the bright sunshine. He came out very hungry! He ate strawberries, an apple, five oranges, cake, ice cream and watermelon. Then, he ate through a healthy green leaf and he felt better. He was VERY big!
My favorite part of this book is when the caterpillar gets very big, because I know he is getting ready to be a butterfly. I like the pictures because there are so many beautiful colors.
My friends and my baby brother would like this book because of the beautiful colors in the pictures. My baby brother would really like this book because he loves caterpillars.
(dictated by Ricardo G.)